Walking can do wonders for both the mind and body. It's accessible to all, helps you connect with the landscape and, best of all, it's free! North Wales, and Snowdonia in particular, provide some of the best opportunities for walking in the UK owing to its diverse landscape, fascinating history and extensive wildlife.
Some families need to factor in accessibility, which can mean planning walking routes where a pram or wheelchair can pass through, and also consider things like distance and terrain.
We think everyone should be able to explore our region so we've compiled a list of walks that are accessible to all. Whether you want a short stroll or a longer adventure, these are great leisure walks the whole family can enjoy. In addition, most of them have useful facilities nearby including parking, picnic tables and toilets.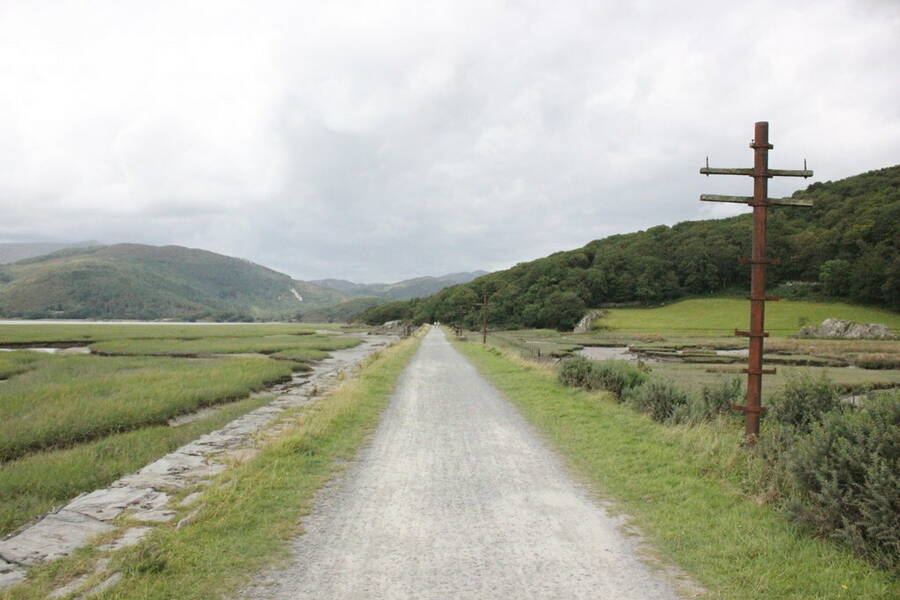 The Mawddach Trail
Location: A 9-mile trail from Dolgellau to Barmouth
Distance from hotel: Just over an hour's drive southbound along the A470
The Mawddach Trail is considered to be one of the best walking trails in Britain, with visitors returning to it each year. The route follows the sparkling Mawddach Estuary and gets you up close and personal with the local wildlife. You'll enjoy stunning views across to Diffwys and the Rhinogs, and up the estuary to Y Garn and the Arans beyond Dolgellau.
The trail is essentially flat, has a fairly even surface and for most of its length is at least three metres wide. There are several accessible benches and picnic tables along the path and wide gates accessible for wheelchairs, bicycles and prams.
The walk 'officially' starts in the picturesque market town of Dolgellau and finishes by crossing the iconic Barmouth railway bridge. If you don't fancy the whole 9-mile walk, you can join the trail at Morfa Mawddach and Penmaenpool, too. There are accessible toilets in all of these locations.
Llyn Cwellyn
Location: Between the Snowdon Massif and Mynydd Mawr (northern part of Snowdonia National Park)
Distance from hotel: You can drive to the lake in less than half an hour but we recommend taking the more picturesque 40-minute car journey via the A4085, taking you past some of Snowdonia's other fabulous lakes.
If you love fairytales, stomp the same boards as legendary characters on a walk along the shore of Llyn Cwellyn. It's not uncommon in Wales for fairytales to be linked to lakes, and Llyn Cwellyn is no exception.
Legend has it that in ancient times, a man was drawn by the sweet music of fairies into the middle of their circle near the lake. Soon, he fell under a deep spell, finding himself transported to a beautiful country where everyone was in perpetual bliss. After spending seven years there, he remembered the reason he had begun walking all those years ago; he had been looking for his sweetheart; he missed her still. Upon his return to the waking world, the man's parents were dead, his brothers and sisters didn't recognise him, and his sweetheart had married another. He died of a broken heart a week later.
For an accessible visit, take the Janus Path. The level boardwalk will take you through a delightful little woodland on the lake shore, affording striking views of Llyn Cwellyn and Mynydd Mawr to one direction, and Snowdon to the other.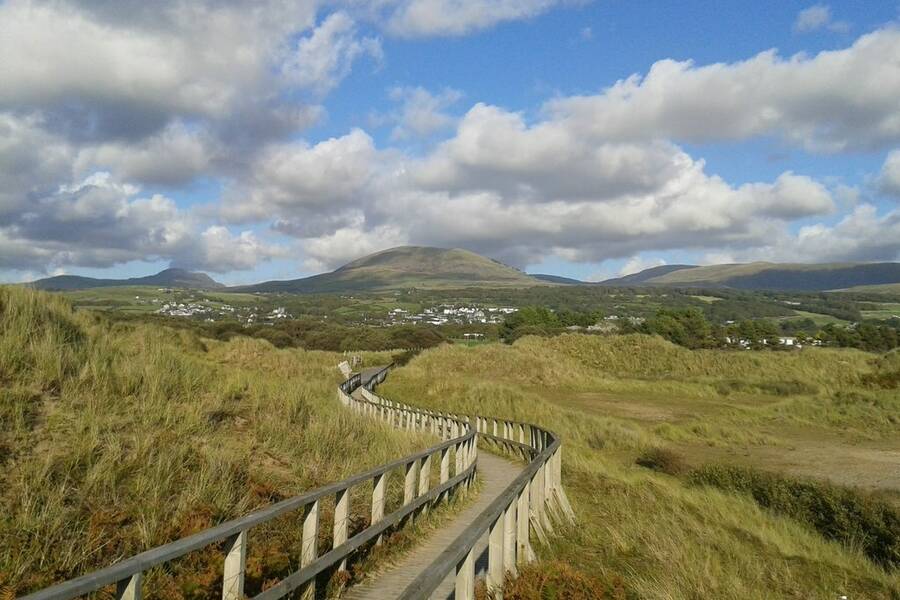 Benar Boardwalk
Location: Between Harlech and Barmouth
Distance from hotel: An hour's drive southeast via A498 and A496 (alternatively, Talybont railway station is very close)
Traeth Benar is considered to be one of the most beautiful beaches in the area and stands within the Morfa Dyffryn Site of Specific Scientific Interest. If you walk right to its end, you'll also access the designated nudist section, the only official naturist location in the area. Don't be put off though, the area is clearly signed, so you won't wander into a lot of revellers sans-culottes!
The stroll along the boardwalk is just 200m and takes you from Traeth Benar car park down to the beautiful beach. Those looking to be outdoors but not overdo it will really enjoy this short trail. Feel free to bring Rover too - the area is popular with dog walkers.
Dôl Idris Nature Trail
Location: Cadair Idris
Distance from hotel: A two-hour journey through amazing landscapes southbound along the A470
If you have never visited Cadair Idris, prepare yourself for a spectacular mountain reserve with a variety of landscapes and terrain. Rugged summits, glacial lakes and a mossy gorge cover over 450 hectares of breathtaking landscape, and you can enjoy it all on an accessible adventure!
Local folklore describes Idris as a giant who lived on this magnificent mountain. The large boulders on the lower slopes are said to be the debris of stone throwing battles between Idris and other giants. It is much more likely that he was simply an important leader in this area; a giant in personality rather than in stature.
Dôl Idris nature trail is just 0.7 miles long but a perfect way to sample the area. It features accessible paths to take you around the parkland. You'll pass a picturesque lake and its fish ladder, exotic trees and the remains of a soft drink laboratory!
The Cadair Idris Visitor Centre and Cadair Tea Room are close to the recommended Minffordd car park, which houses an exhibition showcasing the wildlife, geology and legends of Cadair Idris National Nature Reserve.
Llyn Padarn
Location: Llanberis
Distance from hotel: The lake is just a 15-minute walk from the hotel or a couple of minutes by car
Llyn Padarn is the closest walk to our hotel to enjoy. It has a superb circular walking route which takes in several interesting features relating to the history of slate quarrying in the area. The National Slate Museum in Gilfach Ddu offers a fascinating insight into life for the quarrymen in times gone by. If you've got kiddies or rail enthusiasts with you, you will also enjoy a ride on the Llanberis Lake Railway.
This walking route is as easy as it gets, as you can walk out as far as you want and just turn back. It's also a cycle route if you want to return on two wheels at a later date. We recommend that you start at the Lagoons car park and then it's an immediate left. The entire white waymarked route takes you around the lake.
The walk itself is just under five miles, and you can complete as much or as little of it as you like. This would certainly be our recommendation for walking off a delicious breakfast after a comfortable night in our cosy rooms!
Images courtesy: Mawddach Trail © Copyright Jeff Buck. Llyn Cwellyn © Copyright Kenneth Yarham. Benar Boardwalk © Copyright I Love Colour. Dol Idris © Copyright Shaun Ferguson. Llyn Padarn © Copyright Chris Plunkett. All images licensed for reuse under this Creative Commons Licence.