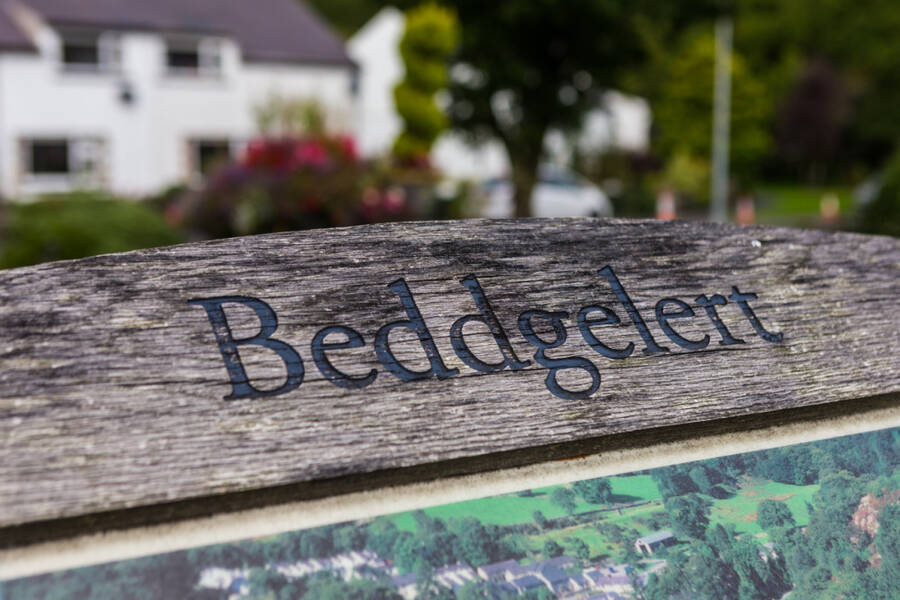 In 1870, John Marius Wilson described Beddgelert like this:
"IT NESTLES IN A DEEP ROMANTIC VALE, ENGIRT BY LOFTY MOUNTAINS, AMIDST THE GRANDEST SCENERY IN WALES; PRESENTS VERY STRONG ATTRACTIONS TO TOURISTS, ARTISTS, AND ANGLERS."
Sounds fantastic, right? Well, nearly 150 years on, Beddgelert is just as enchanting. Here's why...
An historic landscape
Two rivers - the Glaslyn and the Colwyn - meet at a picturesque bridge at the centre of the village, it's a real chocolate box vista! Beddgelert was once a busy port. Before the construction of the Cob at Porthmadog, the river was tidal and ships sailed all the way to the village centre.
The village has also played host to famous faces; this is where Rupert the Bear was set! In addition, poet William Wordsworth set off from here on a dawn ascent of Snowdon on his travels. Beddgelert is in the midst of magnificent walking country, but beyond the dramatic hiking terrain, there are much more accessible trails along the riverside and the old railway track.
How to get there
The easiest way to reach Beddgelert is by car. If approaching from the A5, turn onto the A498 at Capel Curig and drive through the stunning scenery along the Nant Gwynant valley to arrive at Beddgelert.
There are a series of gorgeous lakes to enjoy on the way. The nearest mainline train station is Porthmadog (9 miles), but the Welsh Highland Railway runs from Porthmadog to Caernarfon with Beddgelert as a stop along the way.
THINGS TO DO
A very good boy
Beddgelert takes its name from the faithful hound of Prince Llywelyn tragically slain in a case of mistaken identity. Llywelyn had left Gelert guarding his baby son, and upon his return he found the cradle overturned and the baby nowhere to be seen; Gelert's face, however, was smeared with blood. Fearing the worst, Llywelyn killed Gelert.
When a baby's cry was heard, and the child was found unharmed, beside the body of an enormous wolf with its throat ripped out. Llywelyn, it is said, never smiled again. It is a fantastic (if not a little grisly) lesson in considering our actions before acting, and as such has been immortalised in the village.
A gravestone has been placed to commemorate Gelert's bravery in a meadow by the river. Thousands of visitors pay their respects to this loyal pooch each year, and it's a sobering moment to be had during what will probably be a spectacular day out in the village.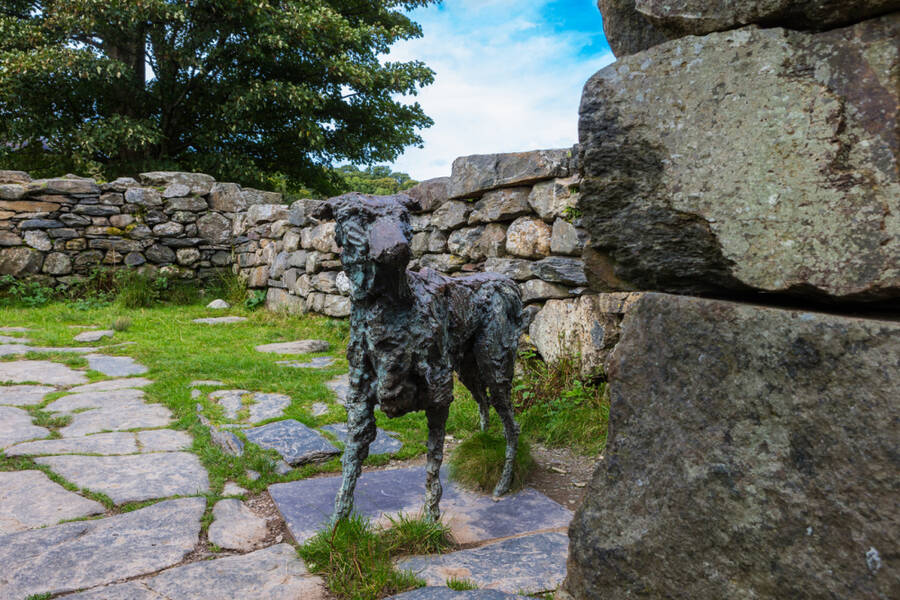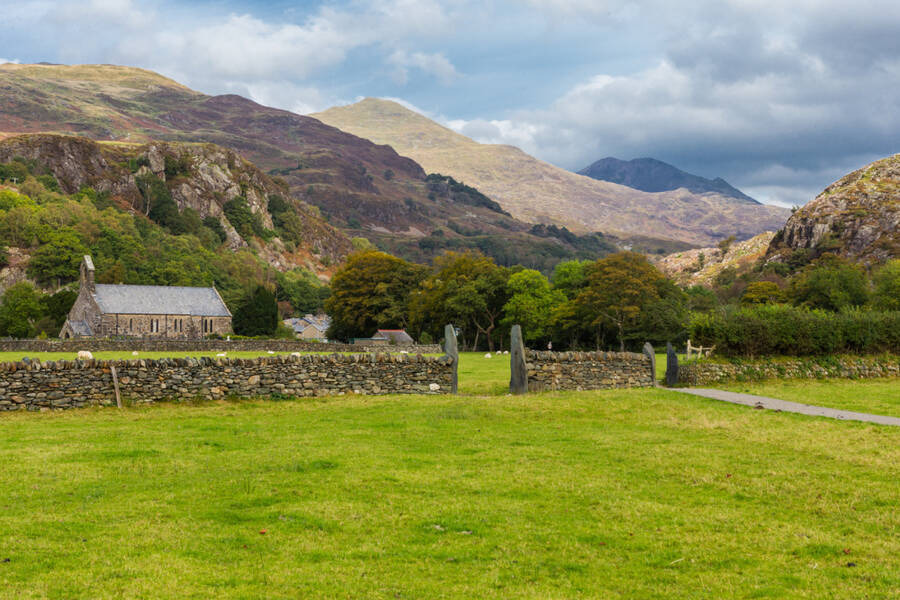 Stargazing at Moel Hebog
Moel Hebog is Beddgelert's mountain. Rising almost 800 metres above the village, it dominates the skyline and provides breathtaking, uninterrupted views of the night sky, in particular the Milky Way. If you've ever wondered whether you'd enjoy stargazing, there are few places better as a starting point.
The sky over Snowdonia National Park has been granted Dark Sky status, which means that the quality of the night air is outstanding and real efforts are being made to reduce light pollution - perfect for identifying constellations! This is a special spot; it's one of only locations worldwide considered an International Dark Sky Reserve.
Please be ware that the route to the summit of Moel Hebog is demanding, so only attempt it if you have a reasonable level of fitness.
Beyond that, Beddgelert is no stranger to galactic goings-on; a local hotel was hit by a meteorite in 1949, the impact heard for miles around!
Explore the foothills of Snowdon
Nant Gwynant, where Beddgelert is nestled, is one of the most beautiful valleys in the region, where the northern slopes rise to the summit of Snowdon.
The southern slopes feature the relatively undisturbed hills of Moel y Dyniewyd, the Moelwynion Range and Dinas Emrys, a rocky and wooded hillock. The valley is teeming with Welsh folklore that creates a mystic atmosphere absolutely irresistible to tourists and locals alike.
Lludd of the Silver Hand was a legendary hero from Welsh mythology who dug a pit in the centre of the land and put a cauldron of mead in it to protect the red Welsh dragon from being attacked by an English dragon. The warring dragons stumbled into the pit, and took to lapping up all of the mead before falling into a deep sleep. Lludd then buried the enormous dragon corpses in the foothills of Dinas Emrys, which is fascinating to explore. If you're familiar with the legend of Merlin, then you'll know what happened next!
In addition to great hill-walking, Llyn Gwynant is a stunning natural lake approximately 3.5 miles northeast of Llyn Dinas where you can hire kayaks or go for a swim. Film buffs will note that this lake was used as a filming location in the movie Lara Croft Tomb Raider: The Cradle of Life.
Craflwyn is a National Trust property below the hill of Dinas Emrys, the spot where Vortigern, the Romano-British king first encountered the Anglo Saxons.
Journey to the centre of the Earth
Winner of the Prince of Wales award for tourism, Sygun Copper Mine is one of the wonders of Wales! This remarkable attraction serves as an impressive example of how our collective industrial heritage can be reclaimed, restored and transformed.
The mines provide self-guided, audio-visual tours where you can explore the old workings on foot through winding tunnels, colourful chambers, magnificent stalactite and stalagmite formations and copper ore veins which contain traces of gold, silver and other precious metals.
Onsite there is also an adventure playground, gold panning and bouncy castle to ensure that everyone remains excited and engaged.

Ride the Welsh Highland Railway
Beddgelert is one of the stops on the Ffestiniog & Welsh Highland Railway, which runs from Caernarfon to Porthmadog via Waunfawr and Pont Croesor.
Hop on at Beddgelert and see some of Snowdonia's most spectacular scenery. Several steam trains run each day, with return and one-way tickets available if you'd like to continue your adventure further down the line.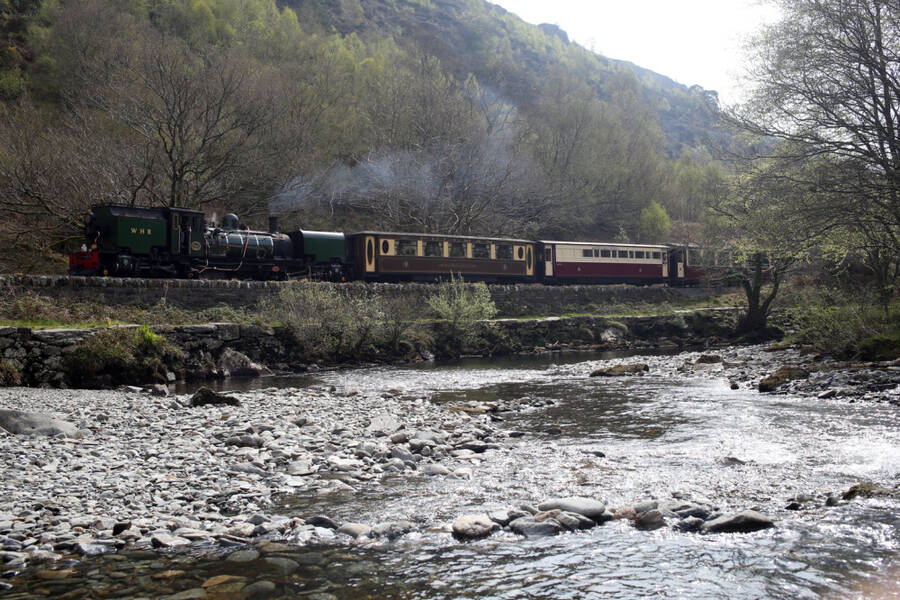 Where to Eat
Glaslyn Ices
What's nicer than wandering along the riverside with a delicious ice cream? You'll be utterly spoilt for choice at Glaslyn Ices! This is an award-winning artisan ice cream and sorbet parlour that creates all their produce in small, handcrafted batches.
The parlour has become a staple of a visit to Beddgelert to returning visitors, and that enthusiasm has been rewarded by introducing something new.
The parlour now doubles up as a specialist pizzeria - the perfect combination of Italian comfort foods! A licensed premises, you can enjoy local beers, cider or Italian wine.
Caffi Gwynant
Caffi Gwynant is near the base of the Watkin Path up Snowdon near Beddgelert, and it is an ideal place for drinks and food before or after a walk to the summit of our highest peak.
From homemade relishes and sauerkraut to filling sandwiches, there is plenty to choose from - oh, did we mention the fabulous cakes?Even on blazing hot days, Caffi Gwynant is airy and cool; it's a perfect pitstop whatever weather.
On walks around Beddgelert, you'll see all kinds of people: children and the elderly, well-conditioned hikers and day-trippers, families and couples, coach trips and solo travellers. Why? It's simple, there's something for everyone in this beautiful Welsh village.
Images Courtesy: Visit Wales 2021 Licence: Royalty Free worldwide with attribution in line with Crown Copyright Licencing Agreement.