For such a small region North Wales boasts some of the finest coastal and country landscapes in Wales. In fact, it's such a diverse area, you'd be hard pressed to do it justice in just a couple fo days! That's what inspired us to start this 'North Wales in a Weekend' blog series. So far we've helped lots of visitor enjoy weekends chock full of culture, adventure, history and the Great Outdoors with easy to follow itineraries over two days. We think it's a great way of seeing the 'best bits' of North Wales in bitesize chunks, plus it leaves you with plenty more excuses for you to come back, stay with us at the Royal Victoria Hotel and see some more!
This time, we're hightailing it for the coast. Even though the hotel is situated at the foot of Snowdon, it's just short drive away from the attractions of the North Wales coast. So to give you a taste of coastal life, we're introducing you to two of our most iconic beaches: one, a quintessential day at the beach; the other, a gateway to romance and legend.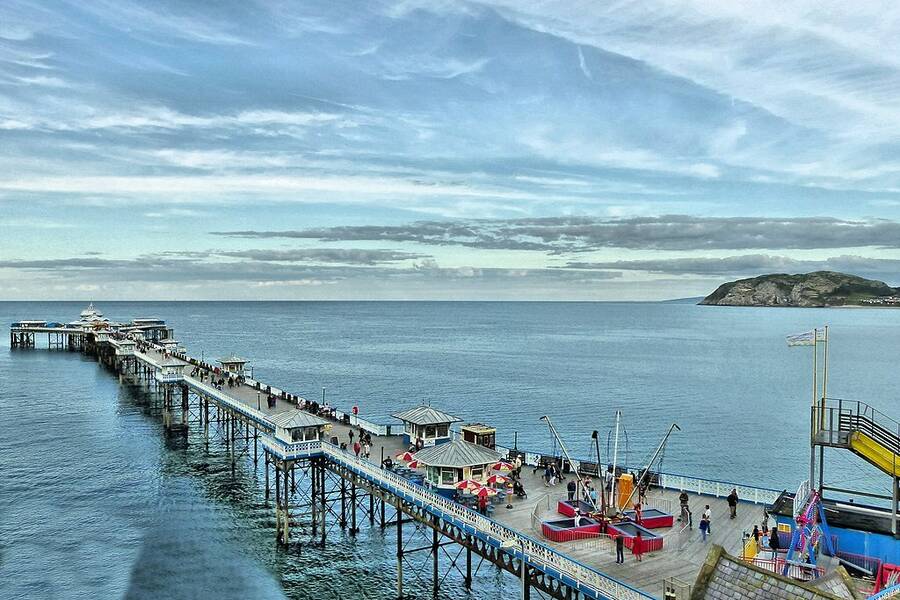 Saturday - Llandudno 'Queen of Welsh Resorts'
Forty minutes drive from the hotel along the A55 coast road is the Victorian seaside resort of Llandudno. Many people visit Llandudno to enjoy a nostalgic stroll down memory lane or to share the magic of childhood holidays with their own kids. Llandudno's North Shore is an historic beach with all the amenities you'd expect from a seaside hot spot. The promenade is vast and strolling along it affords fabulous views across the bay. Set back from the promenade is Llandudno's main shopping area, Mostyn Street, with a great selection of bars, cafes and restaurants serving everything from Welsh afternoon tea to fish and chips.
At the far end of the promenade, tucked at the foot of the Great Orme, you will find Llandudno's famous pier. Complete with amusement arcades, retail kiosks and stalls selling 99s and hot, fresh doughnuts, the pier is a fabulous relic of a bygone era. Running parallel to the pier is the road leading up to Happy Valley, a stunning botanical garden cut into the Orme. With meandering trails and lots of seating to enjoy the views, you can while away hours in this always-sheltered and peaceful spot.
If you want to get your adrenaline pumping a little more, pleasure speedboat rides are available from a jetty under the pier that will take you zooming along the bay and past some fantastic coves around the Orme.
One of Llandudno's best-kept secrets is West Shore, a quieter beach at the opposite end of the town. There is bucket-and-spade fun aplenty at North Shore but we suggest heading to West Shore for sandcastle building and paddling. This beach is more sandy and less crowded. If you don't fancy the walk to get there, there's a charming land train that runs between the beaches on a loop throughout the day. It's a hit with the kids and adults alike.
If you're keen to explore both beaches, we recommend North Shore early in the day when there's plenty to keep you occupied but the crowds are fewer, then heading to West Shore late afternoon for arguably one of the best sunsets in North Wales.
Sunday - Newborough Beach
After a fabulous Welsh breakfast at the hotel, you'll be ready for a leisurely stroll and there's no better beach than Newborough on Anglesey for a bracing walk and a good dose of Welsh culture.
Newborough Beach is famous as the home of Welsh patron saint of love, Santes Dwynwen. To the right, and cut off at high tide, there's an enchanting headland where Dwynwen is said to have lived. Follow the beach to Llanddwyn Island and explore where the sixth century Welsh princess-turned-hermit lived out her days. There's the remains of a church, an atmospheric Celtic cross and a row of fishermen's cottages, which recently featured on the BBC Wales reality show, the 1900 Island.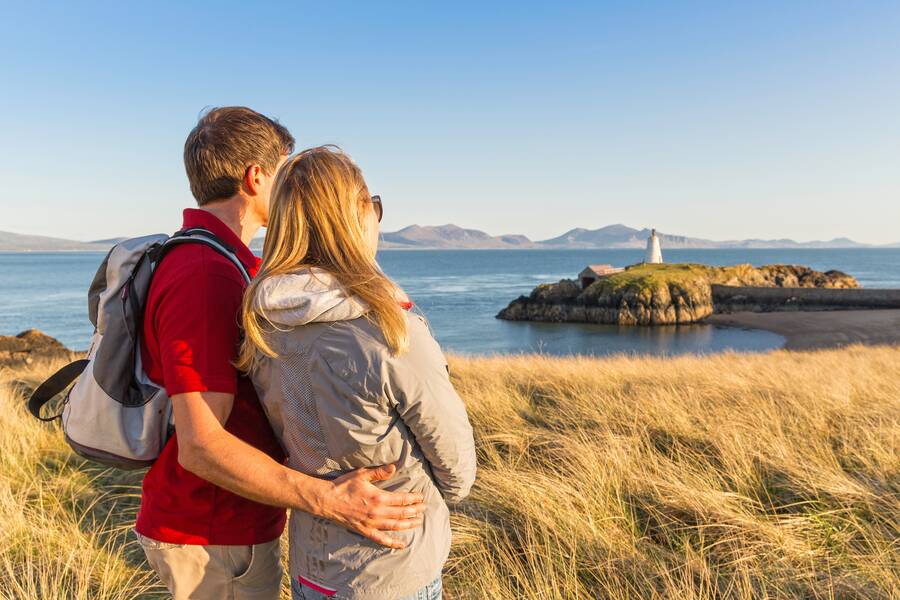 This gorgeous sandy beach travels from the bottom of the Menai Strait to Llanddwyn Island. A range of activities take place out on the sand, including horse riding, walking, watersports and beach-combing. This beach is really secluded and is therefore a great pick when the weather misbehaves but you still want to explore, as there are coves aplenty and sheltered dunes providing a breathtaking backdrop.
Behind the beach, Newborough Forest is a fantastic spot to explore with trails for walking, cycling and horse riding. The way-marked trails of the forest range in difficulty, so you can choose one to suit your ability. Those interested in the natural world will have plenty to keep them busy, too. Between the trees, you'll glimpse views of the through the Cefni Estuary and beyond. In winter, the saltmarsh bordering the forest is great for hen harriers, merlins and other birds of prey. This habitat, as well as the adjacent mudflats, provides important wintering grounds for wading birds and wildfowl and the woodland is home to the world's largest colony of ravens - so don't expect a quiet walk! The elusive red squirrel also makes its home here, and Newborough is well-known as one of their strongholds.
Please bear in mind that part of Newborough's charm is its isolation - there are very few amenities nearby, so it's a good idea to take along a picnic if you're planning to spend the day here. Pop to the hotel reception the night before your trip and we'll prepare a packed lunch for you to take!
Images courtesy: Llandudno Pier from above by Gary Beale, 2017. Llanddwyn Island, Crown Copyright Visit Wales 2019.