In the latest instalment of our 'Discover' series, we're exploring the Snowdonia gem that is Betws-y-Coed - a fairytale village surrounded by majestic mountains, mythical forests and cascading waterfalls.
Roughly translated, Betws-y-Coed means 'the prayer house in the woods'. Why? Well, once upon a time, that's quite literally what Betws was - a chapel surrounded by dense, untouched woodland. It's believed to refer to St Michael's Church which sits on the outskirts of the village today; here, the yew trees are over five centuries old.
Today, the 'Gateway to Snowdonia' is a vibrant and bustling adventure hang-out all year round. Surrounded by the beauty and splendour of Gwydir Forest and the Snowdonia mountain range, you'll find walking trails, outdoor stores, countless adventure activities and wonderful boutique shops, pubs and cafes to boot.
One of the best things about Betws-y-Coed is the atmosphere - fresh mountain air, stunning scenery, a leisurely pace of life and an authentic Welsh welcome are just a few of the things that make this little village so special.
If you've never visited Betws before, this is your perfect opportunity to fall under its charming spell!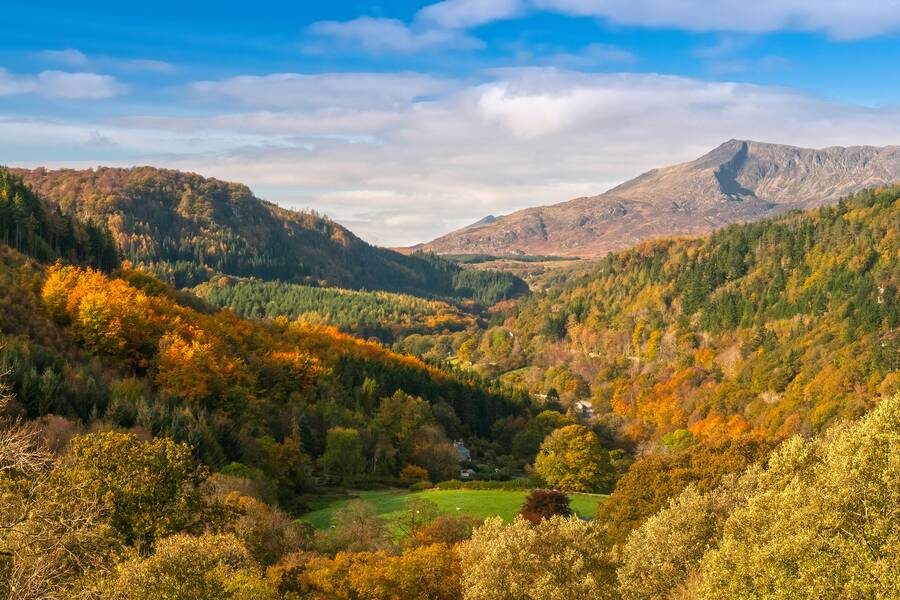 Things to do in Betws-y-Coed
1. Swallow Falls
Just outside the village, the river Llugwy dramatically pours down a glorious cascade called Swallow Falls. You have to see this area of outstanding natural beauty to truly understand how spectacular it is - it's a must-see on your visit to Betws-y-Coed.Just head along the A5 and stop in the carpark opposite the Swallow Falls Hotel. The dramatic scene has easy-to-access viewpoints which cost £2 per person, so remember to bring some change - trust us, it's more than worth it.
2. Fairy Glen
We love the Fairy Glen - it feels like a real-life fairytale! Mythical spirits are said to roam this idyllic wooden dingle, waiting for the fairies to arrive. Complete with rapids, waterfalls and lush fauna and flora, it's a great place to refresh, unwind and take some Insta snapshots.You can find the footpath towards the Fairy Glen via the A470. It can be slippy, so do take care and wear good walking shoes.
3. Conwy Valley Railway Museum
Train enthusiasts, get ready - you're going to love this one! The Conwy Valley Railway Museum sits right in the heart of Betws-y-Coed and features a railway museum chock-a-block with vintage rail artefacts, as well as a miniature railway which takes you on an 8-minute ride along glorious landscaped grounds. Dogs are welcome to ride, too!
4. Llyn Elsi
You can't come to Betws-y-Coed and not put your walking boots on! The 4-mile walk from the village centre to Llyn Elsi is almost as beautiful as the lake itself. It's an easy, 1-2 hour jaunt which takes you through wild woodlands to a tranquil, scenic mountain lake - don't forget the camera!
5. Zip World Fforest
Whether you're visiting with kids or just having a romantic getaway, you can't go wrong with a little bit of adventure. Head to Zip World Fforest and ride on the UK's only alpine coaster. It offers some amazing views; though you'll probablybe more focused on hanging on for dear life. Next, climb, bounce and jump across the treetop nets or swing on Europe's highest 5-seater swing, Skyride - it's all great fun and only a few minutes' drive out of the village!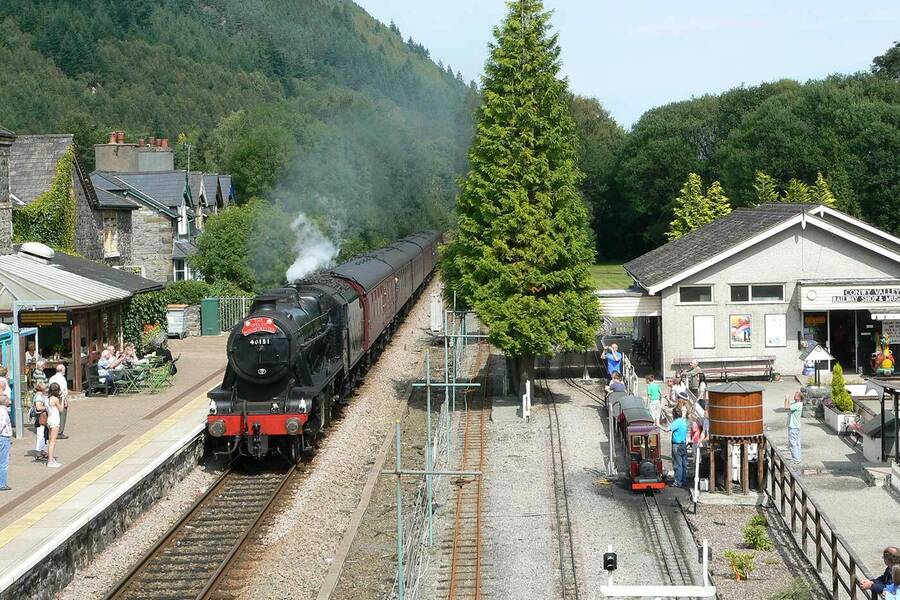 Where to eat
1. Hangin' Pizza
After all that adventuring, walking and sightseeing, you'll definitely be ready for a pizza. This great little pizza joint is open for eat-in or takeaway - so if it's busy, just grab a slice and head to the village green for a pizza picnic! Great food and a lovely atmosphere - plus, they donate a percentage of their profits to ape and orangutan charities in Africa.
2. Alpine Coffee Shop
This dog-friendly, palm-oil free cafe is run by the same company as Hangin' Pizza - that's right, more donations to ape and orangutan charities! This place is always thriving and serves up a huge range of coffees, tea, cakes, lunches and snacks. Their vegan, vegetarian and gluten-free ranges are particularly impressive - there's something for everyone here.
3. Olif
It's not just a tapas bar… it's a Welsh themed tapas bar! Olif is a wonderful place to relax, unwind over some great-quality food and wine. Absolutely all their produce is local, so it truly is a taste of Wales. Make sure to try their amazing range of cocktails - they're raved about!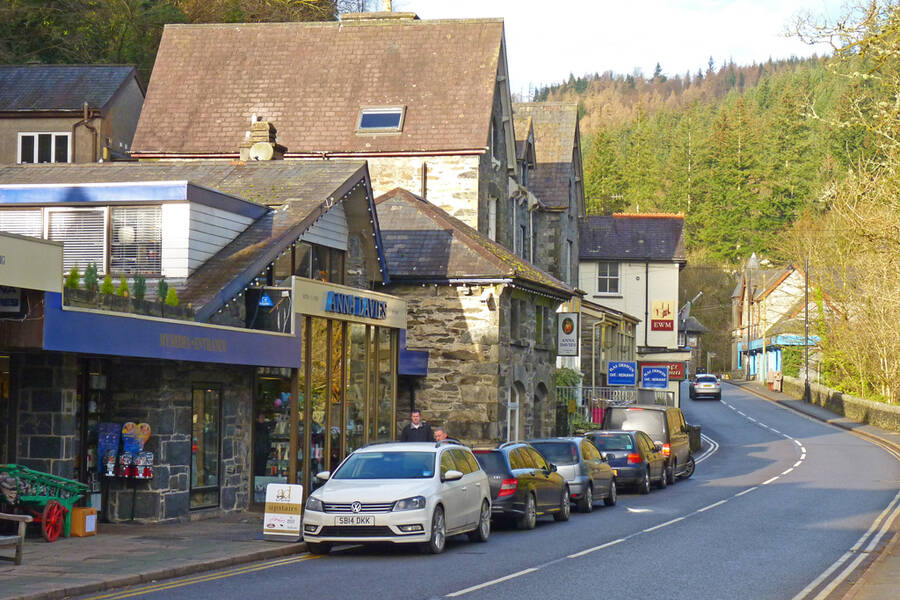 Where to shop
1. Galeri
Looking for an extra-special souvenir or gift to take home from North Wales? You're sure to find it at Galeri. This wonderful shop & gallery showcases arts, crafts, jewellery, books and prints of local Welsh artists and creators - you can pick up some truly unique pieces here.
2. Tandderwen Bakery
Before you head out for a long walk, stock up on freshly-made sandwiches, paninis, bakes, cakes and biscuits from this incredible local bakery. It's just inside the Spar shop in the centre of the village and is your one-stop-shop for all your picnic (or just an indulgent treat) needs!
3. Rock Bottom
Betws-y-Coed is perhaps one of the only places in the UK where outdoor stores outnumber pubs - there's literally too many to count! However, we chose this clearance store because it's a great place to pick up some good-value bargains from leading brands.
4. Iechyd da Deli
After trying out all that fantastic local produce at Olif, you'll probably want to take some of it home. Well, Iechyd da Deli stocks all the Welsh food producers you could ever need - and much, much more. Think chutneys, Welsh cakes, bara brith, cheeses and honeys - need we say more?
Discover... Betws-y-Coed
Mountains, waterfalls, lakes, endless adventure, an atmosphere so wonderful you'll want to bottle it up and take it home, an eclectic mix of modern and traditional cafes, restaurants and pubs - we could go on and on! There's so much to discover in this charming village.
In fact, if we had to pick a place in North Wales which truly had it all, it'd probably be here!
Located less than half an hour from the Royal Victoria Hotel, why not visit Betws y Coed on during your next stay with us?